We Are Full Service Davie FL Irrigation Conctractors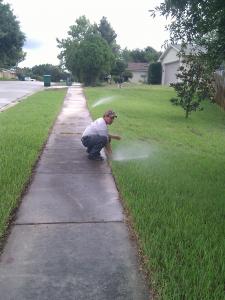 Just like any other complex piece of machinery, your sprinkler system needs regular maintenance to stay in fine working order and to prevent malfunction. Our inspection and maintenance services are unmatched, and will provide you with a complete picture of your home irrigation system. We've been in the business of home irrigation for years, and this certainly isn't our first rodeo. When you are enjoying a well maintained landscape throughout the year with minimal fuss on your end, you'll see why it pays to have a maintenance plan.
The goal of our Davie sprinkler installation pros is to catch problems before they become issues. We know from personal experience that a well maintained irrigation system will save you money month after month in water use, as well as avoid the kind of emergency repairs that follow years of neglect.
We'll Cover 100% of your Sprinkler Repair & Installation Needs

Unclogging/cleaning
Sprinkler head calibration
Leak detection and pressure testing
Filter changes
Pump maintenance
Timer/controller calibration
Rainfall shutoff and backflow inspection
Coverage testing
Emergency Sprinkler Repairs
If you discover any problems that require immediate action, our Davie sprinkler installation and repair unit will be there in a flash to evaluate and repair any irrigation issue. If you notice anything out of the ordinary, give us a call right away. Ignoring the problem may escalate the issue, and cause even more damage to your home and property. Contacting us as your first line of defense could make all the difference.
Sprinkler Installation and Redirection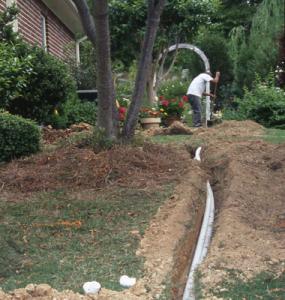 If you're still out on the lawn every night watering with a hose, you have a few problems on your hands. Eliminate the hassle, wasted water, and unhealthy lawn in one easy step!
We can help with every step of sprinkler installation. As a Davie FL resident, you know more than anyone that rainfall alone to keep your yard green. A proper setup will eliminate the legwork, and provide your lawn with the best irrigation possible. The best part of all this is the money you'll save each and every month on your water bill. We know all the best equipment to build your home irrigation system from the ground up. Literally.
If you already love your current sprinkler system, but need to make some changes to the addition of a pool, remodeling project, or patio, we can make all the necessary changes to your system to accommodate any new construction.
For any sprinkler installations in Davie, FL we use current technology to analyze soil makeup, groundwater, and watering needs. In addition, we can use computerized diagrams to create extremely precise designs for many aspects of your home irrigation system. This is all part of our standard service to show our commitment to our customers.
Future Proofing
The changes to the water supply has spurred a boom in development of residential irrigation technology. From sprinkler heads to smart controllers, it can be hard to keep up with the latest technology that's out there. Fortunately that's our job. We'll keep you going with the latest information on all the gadgets that benefit your home so you can continue to enjoy a lush lawn for years to come.